StockShard (https://stockshard.com) is an US-based FinTech startup aiming to build a community for novice and experienced investors to participate in factually based discussions, while utilizing StockShard tools to share projections, post informative videos and build a community to rally on the success of fellow investors. It is a positive community free of downvoting, annoying image files and a no tolerance policy for any misbehaviour.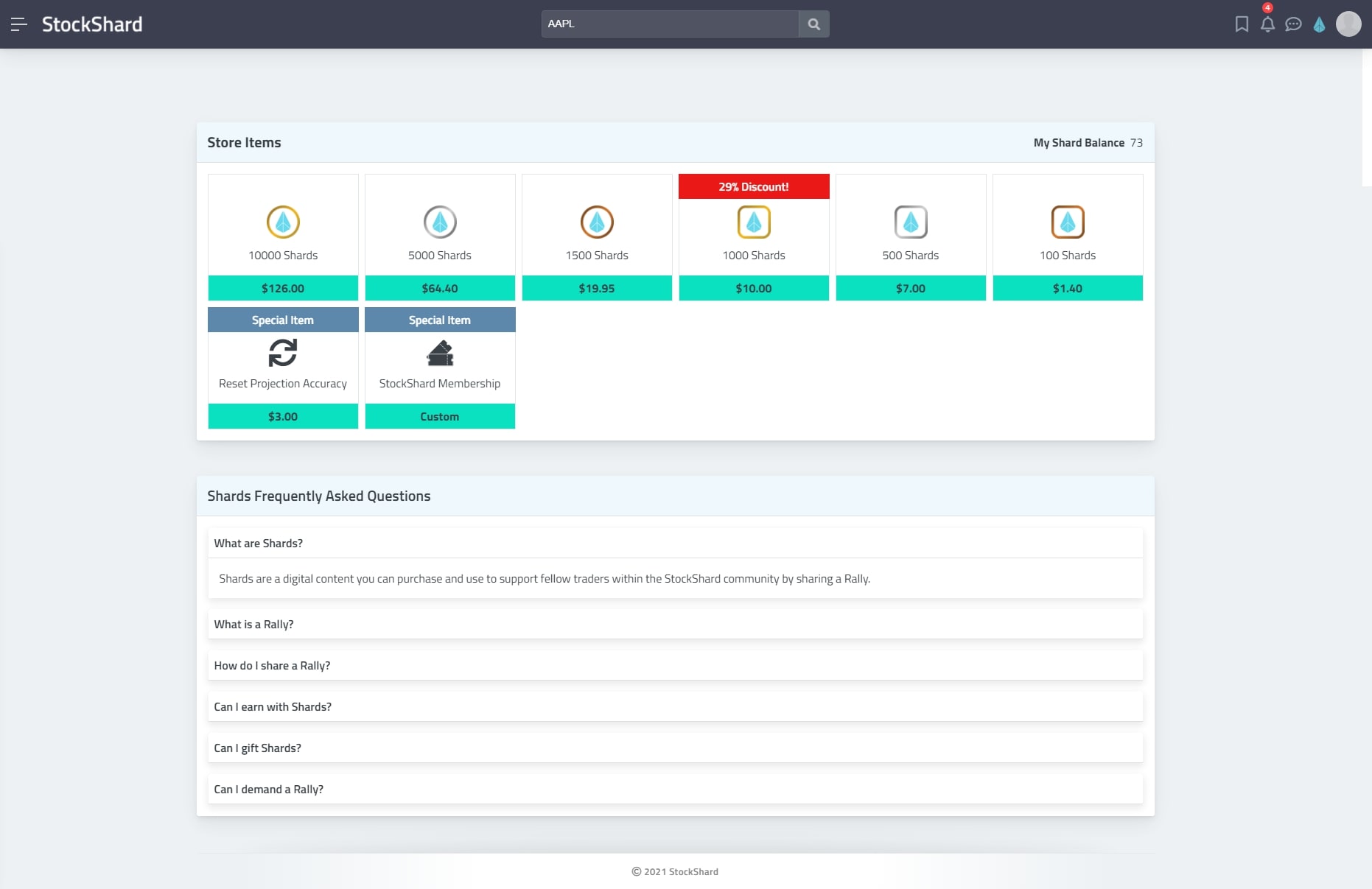 StockShard was developed by a team of:
1  Project Manager
3 .NET Core Developers
3 Angular Developers
1  UI/UX Designer
2 QA Testers &
1  DevOps Engineer
Project Description
Launched in 2021, StockShard was created to solve the scarcity of a reliable source of information among investors. The idea was not inspired by any other platform. But Twitch has been referenced and studied as a proof of concept for their business model consisting of ads, subscriptions and use of in-app donations as a means to reward users which in StockShard's case are called 'Shards'. Twitch is a video streaming platform for gamers worth studying. But beyond their business model and core video sharing feature, there is a stark contrast between the two platforms.
Problem It Solves
StockShard is a unique platform among other applications targeted toward stock investors. The app was created because of the realization that all stock investors experience a common struggle which is sourcing information before making the decision to invest. This problem is what conceived the idea of StockShard.
Solution
StockShard solves the problem of information sourcing by creating a community where users can share their research and be rewarded for their efforts. The mission was to create an exclusive community where investors are rewarded for sharing factually based insights, sharing their passion for investing and enabling fellow investors to make informed decisions.
Features
StockShard is tailored with numerous features unique to stock investors to provide value for the users.
– The Shard
StockShard is tailored with numerous features unique to stock investors to provide value for the users.
– Stock Charts
Stock prices, charts and summaries from the U.S. stock exchanges can be viewed in convenient formats like graphs and charts.
– Discussions
A new discussion can be started by posting information, links or surveys.
– Projections
Stock traders can create both personal and public stock projections to test or practice their skills.
– Videos & Views
Videos and live streams can be embedded through YouTube and shared to the community to increase viewership.