Astha IT Ltd, one of the leading software development and export companies of the country, received an award in the Export Excellence category at BASIS Outsourcing Awards 2020, held on this Saturday, October 17, 2020 at Radisson Blu Water Garden, Dhaka. Mr. Salman Fazlur Rahman, Honorable Advisor to the Prime Minister on Private Sector Industry and Investment attended the ceremony as the Chief Guest. Mr. Zunaid Ahmed Palak, MP, Honorable State Minister, Information and Communication Technology Division also attended as the Special Guest in the ceremony. All directors and executive board members of BASIS were also present on the occasion.
BASIS Outsourcing Awards 2020 is an award organized by Bangladesh Association of Software and Information Services (BASIS) to recognize outstanding performance of organizations and individuals in the field of outsourcing of software and ITES services. This year, the awards were given to one hundred winners in five different categories, including organizations and individual freelancers. Among them, sixteen organizations were awarded in the most prestigious Export Excellence category.
Astha IT has been a top contributor to Bangladesh's record high export revenue from software and ITES in the last fiscal year. Founded in 2008, it has become one of most successful software development companies of the nation, exporting services to North America and Australia, and has helped the country earn a foreign remittance of roughly a USD$100 million over these years. The company is the technology partner of many prominent global businesses such as Levatas, SaaS Ventures, StrataSpot and Bizgenics Foundation.
It is worth mentioning that Astha IT received similar awards at BASIS Outsourcing Awards in 2013 and 2014 consecutively.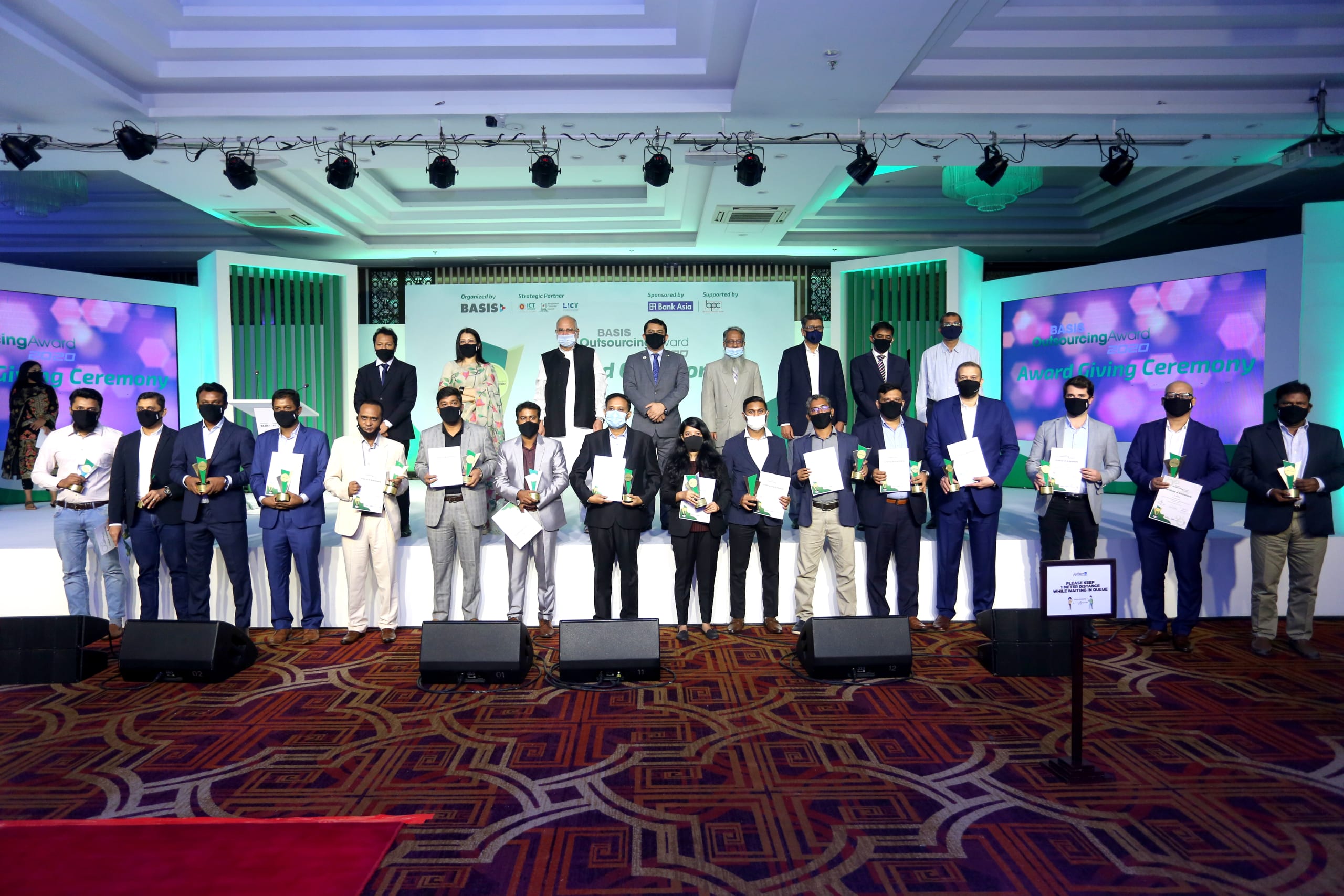 রপ্তানি খাতে অবদানে পুরষ্কার পেলো আস্থা আইটি
দেশের অন্যতম শীর্ষস্থানীয় তথ্যপ্রযুক্তি কোম্পানি আস্থা আইটি লিমিটেড বাংলাদেশে তৈরি সফটওয়্যার ও আইটি এনাবেল্ড সার্ভিসেস রপ্তানিতে সর্বোচ্চ অবদান রাখায় বেসিস আউটসোর্সিং অ্যাওয়ার্ডস ২০২০ অনুষ্ঠানে "এক্সপোর্ট এক্সিলেন্স" শাখায় পুরষ্কার অর্জন করেছে। শনিবার ১৭ই অক্টোবর সন্ধ্যায় ঢাকার র‍্যাডিসন ব্লু ওয়াটার গার্ডেন হোটেলে এটি অনুষ্ঠিত হয়। এতে প্রধান অতিথি হিসেবে উপস্থিত ছিলেন মাননীয় প্রধানমন্ত্রীর বেসরকারি শিল্প ও বিনিয়োগ বিষয়ক উপদেষ্টা জনাব সালমান ফজলুর রহমান। বিশেষ অতিথি হিসেবে উপস্থিত ছিলেন বাংলাদেশ তথ্য ও যোগাযোগ মন্ত্রণালয়ের প্রতিমন্ত্রী জনাব জুনায়েদ আহমেদ পলক। এছাড়া বেসিস পরিচালনা পর্ষদের সদস্যবৃন্দগণও অনুষ্ঠানে উপস্থিত ছিলেন।
দেশীয় অথ্যপ্রযুক্তি কোম্পানি ও ফ্রিল্যান্সারদের সফটওয়্যার ও আইটি এনাবেল্ড সার্ভিসেস রপ্তানিতে অসামান্য অবদানের স্বীকৃতিস্বরূপ ২০১৩ সাল থেকে বাংলাদেশ অ্যাসোসিয়েশন অফ সফটওয়্যার এন্ড ইনফরমেশন সার্ভিসেস (বেসিস) এই আউটসোর্সিং অ্যাওয়ার্ডস অনুষ্ঠান পরিচালনা করে আসছে। এবছর পাঁচটি ভিন্ন শাখায় কোম্পানি ও ফ্রিল্যান্সার মিলিয়ে মোট একশত বিজয়ীকে পুরষ্কার প্রদান করা হয়েছে, যারমধ্যে ষোলটি প্রতিষ্ঠানকে সর্বোচ্চ অবদানের স্বীকৃতিস্বরূপ দেয়া হয়েছে "এক্সপোর্ট এক্সিলেন্স" পুরষ্কার।
আস্থা আইটি সার্ভিসেস বাংলাদেশের গত অর্থবছরে অথ্যপ্রযুক্তি রপ্তানিখাত থেকে রাজস্ব অর্জনে শীর্ষস্থানীয় ভূমিকা রেখেছে। ২০০৮ সালে প্রতিষ্ঠিত কোম্পানিটি উত্তর আমেরিকা ও অস্ট্রেলিয়ায় সফটওয়্যার উন্নয়ন সেবাদানের মাধ্যমে পরিণত হয়েছে বাংলাদেশের অন্যতম সফল ও বৃহৎ অথ্যপ্রযুক্তি কোম্পানিতে। একযুগের অগ্রযাত্রায় দেশের জন্যে বয়ে এনেছে ১০০ মিলিয়ন ডলারের অধিক বৈদেশিক মুদ্রা। বেশকিছু আন্তর্জাতিক প্রতিষ্ঠানের প্রযুক্তি-অংশিদার হিসেবে সেবাদান করে যাচ্ছে আস্থা আইটি। এরমধ্যে রয়েছে আমেরিকার লিভাটাস, স্যাস ভেঞ্চারস, বিজযেনিক্স ফাউন্ডেশন ও অস্ট্রেলিয়ার সর্ববৃহৎ অ্যাপার্ট্মেন্ট-পরিচালনা কোম্পানি স্ট্রাটাস্পট।
উল্লেখ্য, ২০১৩ ও ২০১৪ সালের বেসিস আউটসোর্সিং অ্যাওয়ার্ডস অনুষ্ঠানেও আস্থা আইটি শ্রেষ্ঠ অথ্যপ্রযুক্তি রপ্তানিকারক প্রতিষ্ঠানের পুরষ্কার অর্জন করেছিল।